Home
Our Clinic
Medical Magnus Clinic® is a modern specialist medical center operating since 1987. Within our clinic we have different departments including: orthopedic surgery, plastic surgery, neurosurgery, sports traumatology and rehabilitation. In 2012 we have opened, the first in Poland, Regenerative Medicine Hospital Ward, where musculoskeletal injuries and disorders are treated using patients's own stem cells. Our Orthopedic and Traumatology Outpatients Clinic is the largest in the province of Lodz.
Medical Magnus Clinic® performs services from following specializations: orthopedics, rehabilitation, neurosurgery, plastic surgery, geriatrics, cardiology and occupational medicine.
The modern method of stem cells therapy applied by Dr Marek Krochmalski wad awarded 1st prize in the innovative service category of the Łódź Offers- The Innovative and Creative contest organised by the President of the City of Łódź in 2012.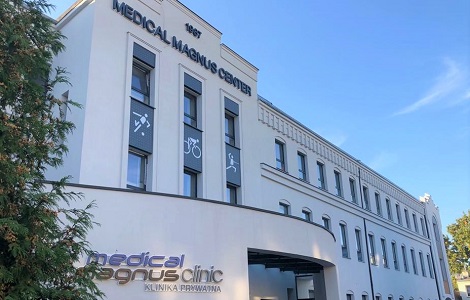 Doctors from our team use the most modern treatment and rehabilitation methods and work on the world class medical equipment.
MODERN METHOD OF STEM CELLS THERAPY TO TREAT
Injuries of the tendons, muscles and ligaments
Soft tissue overuse injuries, enthesopathy
Disorders of the knee (chondromalatia, gonarthrosis)
Disorders of hip (coxarthrosis)
Disorders of the ankle (talus osteochondrosis)
Disorders of the shoulder or elbow
Nonunion fractures
TREATMENTS OUTCOME
Damaged tissue regeneration
Joint Surface regeneration
Pain relief
Life quality improvement by the increase in joint range of motion
STEM CELLS OFFER THE UNIQUE OPPORTUNITY AS AN ALTERNATIVE TREATMENT TO AVOID JOINT PROSTHESIS AND TO REGAIN LOST MOTOR SKILLS.
SPORTS TRAUMATOLOGY
Sports injuries are treated by the state of the art equipment and by highly skilled and trained proffesionals. Many famous athletes, olympic and world champions, benefit from our treatment and rehabilitation expertise. We cooperate with many polish sports associations, The Center for Sports Medicine, UEFA Medical Committee, IWF, EWF and many others.
ORTHOPAEDIC AND TRAUMATOLOGY OUTPATIENT CLINIC
The team of experienced orthopaedic surgeons, supported by the modern X-ray, ultrasound and MRI Department, provides medical examination and treatment. We take care of the private patients and on the National Health Fund.
REHABILITATION
This Department restores motion and function for an active lifestyle. The standard settings include pre- and postoperative rehabilitation for outpatient and inpatient program. Beginning of the rehabilitation immediately after surgery guarantees a shortening of the recovery time for the patients. We offer special individual rehabilitation program for patients treated with the stem cells.